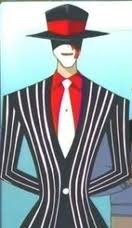 Biography
Edit
Alan was Alex Rosewater's assistant, it was however revealed to be a cover for his real function as an Union agent, who sold his loyalty to both sides. He equally enjoyed destroying androids and killing humans, revealing a sadistic personality. It was revealed in the course of the series, that Alan is a cyborg.
Alex gave him Big Duo Inferno as payment for his assistance in obtaining Big Fau and destroying the Union cells in Paradigm City. Schwarzwald's ghost hijacks Big Duo and kills Alan, as Alan is unworthy to pilot a Megadeus (expressed by the message "ye guilty" instead of the usual activation message "ye not guilty").
External Links
Edit
Ad blocker interference detected!
Wikia is a free-to-use site that makes money from advertising. We have a modified experience for viewers using ad blockers

Wikia is not accessible if you've made further modifications. Remove the custom ad blocker rule(s) and the page will load as expected.