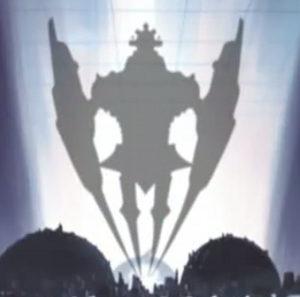 The Military Police watch as Roger and Alex clash in their Bigs. Alex soons overwhelms Roger and prepares to destroy him. As Big Fau drags Big O to the coast, the military police attack Alex after being shamed by Dastun. Big O, plunged into the water, wraps its anchor chains around the Big Fau, dragging Fau into the water. Big Fau cuts the chains and leaves Big O to sink to the seabed. Gordon says that Angel has the ability of containing or releasing memories prior to 40 years ago. Roger receives memories of when the city was first created and how all the characters were constructed. Dorothy dives into the water and saves Roger from drowning. Roger faces Alex once more, but this time Dorothy is directly linked into Big O, enabling Roger to use a massive energy cannon and severely damage Big Fau. Angel's wings appear and create Big Venus, deleting Paradigm City. Roger proclaims how his memories of Angel are of reality and not of fantasy. Big O and Big Venus merge into each other and vanish at the same time. It is unveiled that Angel is the playwright of the entire story.
External Links
Edit
Ad blocker interference detected!
Wikia is a free-to-use site that makes money from advertising. We have a modified experience for viewers using ad blockers

Wikia is not accessible if you've made further modifications. Remove the custom ad blocker rule(s) and the page will load as expected.